Moon Jar, White Porcelain
Moon-Jar, White Porcelain
The name of this jar is Moon Jar, which arises from its round and gentle shape. It is round like the moon and white like moonlight. The jar is loved by many because of the comforting nature of its soft and sufficient curves and its confident sense of volume.
Creating such a large jar is impossible with a single spin of a spinning wheel. Even if it were any jar greater than 40cm placed would break in a kiln. To mold a jar's body into a smooth circular shape, its upper part must be made with a spinning wheel while its lower part must be produced separately. Later, the two parts must be attached. This jar was made by hand, and there is a trace of connection at its waist. The true allurement of the jar comes from this. The jar's upper and lower parts are elaborately different.
The charm of this jar arises from its natural beauty, which does not conform to an exact set pattern but seems to be fragmented. This is the result of the elaborate harmony between the power of white soil to collapse due to gravity and the will of the craftsman to make a smooth shape. In other words, the charm of this piece does not come from the artificial beauty of the circle, formed with a frame, but from its focus on the beauty of nature made with bare hands, as depicted by the natural beauty of mountains and waters. Indeed, it is not that people could not form a perfectly round shape. It is speculated that the circle was made while the craftsman was covered by something to protect it from the glaze and the ashes. This was only possible in the production of court ceramics. The high level authorities at the time must have enjoyed simple and natural beauty rather than extravagance.
The beauty of this jar is in its simplicity. After its craftsman had made such a large jar, he would probably have been in agony. He could have painted a lotus, a peony, an arabesque pattern, or a grape pattern on it. He also could have drawn dragons or cranes. Yet, the craftsman decided to leave it as it was. A Japanese art historian, Yanagi Muneyoshi, who was fascinated with Korean ceramic ware, writes in his book Joseon and its Art, "Regardless of the East and the West, if the times are advanced, techniques become more and more complex. We can find an interesting exception from Joseon's ceramic art, though. Its beauty is in its return to simplicity.... Isn't trust of nature the astonishing distinction of Joseon's art?"
We also have to pay attention to the jar's color. A painter once said, "The white colors are all different. The simple shape, the simple pure white color spreads such a complex, delicate and mysterious beauty.... It can give even a cold ceramic jar a warm texture."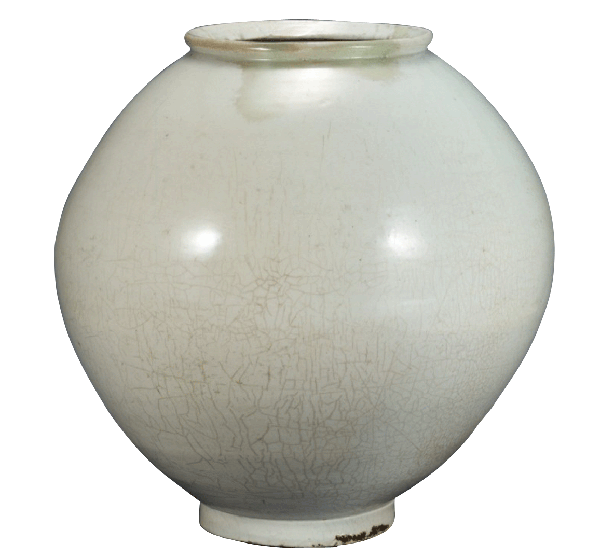 Location: White Porcelain Gallery at the Sculpture and Crafts section (3rd Floor)
Period/Date: Joseon, 17th century
Accession no. Jeopsu 702
Treasure no. 1437
* This article is extracted from the NMK Magazine Vol.01