Healing and Communication in the Virtual World with the Pensive Bodhisattvas, Korean National Treasures
National Museum of Korea is presenting the metaverse* world map called 'Peaceful Hill (feat. Pensive Bodhisattva)' from October 8 in the biggest virtual reality platform in Asia, Zepeto!
Zepeto 'Peaceful Hill' is the virtual world that exists with two representative collections of the National Museum of Korea, Pensive Bodhisattvas. They stand in a peaceful natural environment filled with light, not like in real world where they are normally displayed indoor space. Visitors can stroll around the map, brighten the Buddha statue by finding hidden gems and take a selfie with the statue inside mysterious cave. Visitors can also climb up the trees, sit on rocks for meditation and chat with friends on a grassy field.
Meet your friends and Pensive Bodhisattvas in the metaverse world with your own avatar!
* Metaverse: a compound word of 'meta' (meaning beyond) and 'universe' (meaning real world), a virtual-reality space in which users can interact with a computer-generated environment and other users.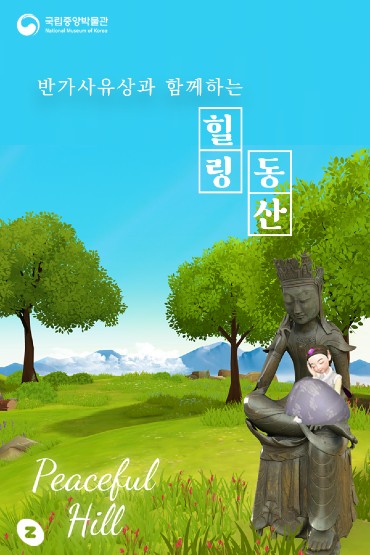 How to play 'Peaceful Hill'
① Download Zepeto app from Google Play Store or App Store
② Start the app, sign up and log in and create your own avatar
③ Look for 'World' tap on the bottom menu and click on the search icon in the upper right → Search 'Peaceful Hill'
④ Join the map by clicking 'Play' button
⑤ Stroll around the 'Peaceful Hill' with your own avatar
How to play 'Peaceful Hill' feat. Pensive Bodhisattva from the National Museum of Korea Move your character with the round button in the bottom left and with jump button the bottom right The main quest is to 'Clean the Buddha statue' Find the jewels hidden in flowers of Peaceful Hill Collect the jewels by clicking the finger-shaped button shown above the jewels Take the jewels to the Buddha statue to clean the aurora You need to choose the same colored jewels with aurora Once you clean the statue by clearing all aurora, you can get lotus item With this, you can enter the cave Click on the arrow icon You have completed all main quests and finally entered the cave! Let's take a closer look into the mysterious statue When you click the check icon on the upper right, you can see the world quests Try and complete the quests related to Peaceful Hill You can check the progress of the quests if you click on the face of Buddha icon in the center at the top After completing the quests, you will earn a miniature of Pensive Bodhisattva Once you collect the miniatures of Buddha, you can get Buddha shoulder item You can use it in other world map. Shall we go and try the quests? Take a photo and video of your own avatar with the Pensive Bodhisattva!
How to play 'Peaceful Hill' (1:13)