2022 Buddhist Hanging Scroll Exhibition
Feast of Light: Buddhist Hanging Scroll at Sudeoksa Temple
Imagine a day when a large-scale Buddhist hanging scroll (gwaebul in Korean) was being hung outside the main hall at the thousand-year-old Sudeoksa Temple in Yesan, Chungcheongnam-do Province. In front of the main hall, small painted banners that mark the sacred space where the gwaebul hangs are fluttering in the wind. A wide array of offerings are piled up in front of the hall. Brilliant warm sunlight and gentle breezes sooth the hearts of the people who are waiting for the Buddha they hope soon to encounter. The temple yard reverberates with the chanting of monks' chanting and seems to swirl with the people's dearest wishes. The colossal hanging scroll filled with colorful lights unfolds as the colorful cloths tied to the top of the painting cross the blue sky over the main hall.


To celebrate Buddha's Birthday in 2022, the National Museum of Korea is holding its seventeenth gwaebul exhibition, entitled Feast of Light: Buddhist Hanging Scroll at Sudeoksa Temple in Yesan. The exhibition offers a rare opportunity to personally view a gwaebul painting normally stored away at a temple. Facing such a large Buddhist hanging scroll, viewers often experience an inexplicable but intense thrill, even if they are not familiar with Buddhist thinking and doctrine. Although this painting was produced several hundred years ago, the Buddhist world portrayed in the painting still moves viewers' minds the way it did back then.


This exhibition is the first time the gwaebul painting of Sudeoksa Temple in Yesan is being presented together with another treasure of the temple, a lotus pedestal from the Goryeo Dynasty. The lotus pedestal adorned with beautiful designs demonstrates the splendid Buddhist culture of the Goryeo Dynasty. We would like to invite visitors to appreciate the beauty of cultural properties transported from Sudeoksa Temple to the National Museum of Korea.



- Period: April 13 (Wed) – October 16 (Sun), 2022
* Exhibition dates are subject to change depending on circumstances.

- Venue: Buddhist Painting Gallery, 2nd Floor of the National Museum of Korea

- Displayed Works: Buddhist Hanging Scroll (Treasure) and Lotus Pedestal (Treasure ) at Sudeoksa Temple, and more.

Feast of Light: Buddhist Hanging Scroll at Sudeoksa Temple (01:11)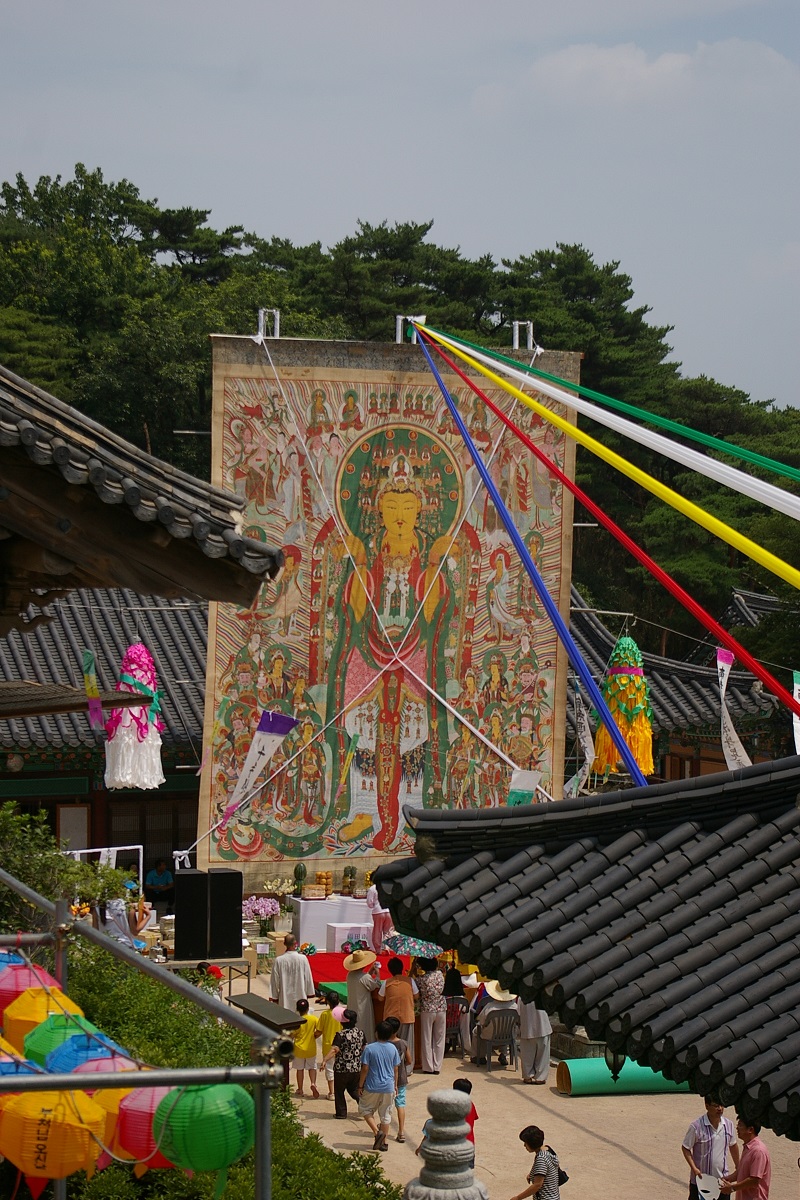 Buddhist Hanging Scroll Hung in the Yard of Sudeoksa Temple in Yesan

ⓒ Kim Hyung Gon