Jar, White Porcelain with Plum and Bamboo Design
Jar, White Porcelain with

Plum

and Bamboo Design in Underglaze Iron-Brown
This jar is an example of the 16th century Joseon iron-painted white porcelain, which is widely known for its distinct designs as well as its high-quality shape.
In shape, this jar is similar to the buncheong ware of the early Joseon period, but it is more neatly molded, bestowing upon it an additional degree of magnificence. Although its original shape cannot be confirmed (because the mouth area has been repaired), this short neck widens out towards the shoulder that flows to the body, which widely extends to make a voluminous curve and then gradually narrows down to the bottom. The contour of the mass is neat and simple as well as firm, running from top to bottom in a perfect smoothness.
In terms of patter, the white porcelain bears a variation of typical arabesque design on the neck and, on the shoulder, a row of lotus petals, a pattern that is closely related with the ones seen on the buncheong ware of the period. The bottom area is surrounded by wave patterns (padomun), while the entire body is covered with bamboo and plum trees.
Most notably, the bamboo trees are expressed in a single stroke using the gureuk technique (outlined first and then filled in with color), and the twigs of trifoliate or quatrefoil leaves that droop low sprout out from the tree trunks stretching out diagonally. The gureuk technique is also used for the old plum tree. The trunk is dramatically bent to form a strong S-shaped arch from which equally powerful side branches stretch out with the buds just about to burst outwards.
This white porcelain is made of light-gray clay kneaded well to make a smooth surface. The tint of the glaze is almost milky-white without any minute surface cracks, evenly coated with a stable, high-density glaze. The color of the underglaze iron brown is umber, expressed with the brushwork of various shades at just the right spot and with a precision that is rarely matched. This truly marvelous work of art harmoniously features three distinct patterns and bamboo and plum trees talon a three-dimensional object that is 40 cm tall. It accomplishes this without ever losing balance, vigor, or tension between the elements to make it look natural and superb.
Looking at the deep brownish bamboo and plum designs achieved with a brush, it is found that the two were depicted in different ways. The bamboo was painted using only different shades without an outline, while the plum was painted after drawing an outline. Thus, this jar features two different methods of depiction, in which the bamboo was depicted as a straight image and the plum was depicted as an antique image. Considering the sophisticated and elegant brushstroke, it is thought that this jar was decorated by a royal painter. When producing white porcelain to be used by the Joseon royal family, decoration was performed by an expert painter dispatched from the Dohwaseo, the royal painting institute.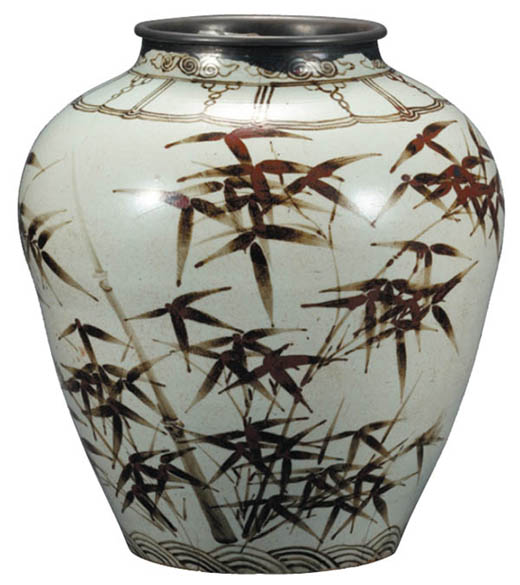 Jar, White Porcelain with Plum and Bamboo Design in Underglaze Iron-Brown
Location: White Porcelain Gallery at the Sculpture and Crafts section (3rd Floor)
Period/Date: Joseon, 16th century
Accession no. Deoksu 6294
National Treasure no. 166
* This article is extracted from the NMK Magazine Vol.10