Special Exhibition
The Great Thinker Dasan Jeong Yak-yong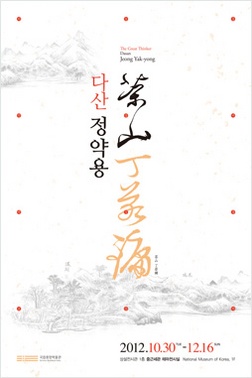 ○ Venue: Thematic Exhibition Gallery in the Medieval and Early Modern History Section, 1F
○ Date: Oct 30 - Dec 16, 2012

The National Museum of Korea (Director Kim Youngna) presents a special exhibition commemorating the 250th anniversary of the birth of Jeong Yak-yong, pen name "Dasan." The event displays 142 relics related to the renowned scholar, including his collection of poems, Dasansagyeongcheop (Treasure #1683). Visitors will gain a renewed appreciation for the academic achievements, philosophy, and personality of this great thinker, who constantly pondered how to improve his country and the lives of its people, even during times of personal trouble.
The exhibition is divided into several themes, highlighting Jeong's life, academic achievements, and books. The exhibition will let visitors re-examine the life and personality of this innovative Confucian scholar who constantly worked to reform and improve the governing systems of Joseon and the lives of the citizens, even during his 18-year exile.
Click here for the exhibition details!