Exhibit Renewal
Re-Opening of the Silla Gold Crown and Pensive Bodhisattva Gallery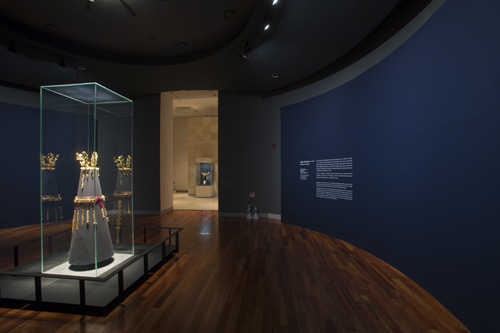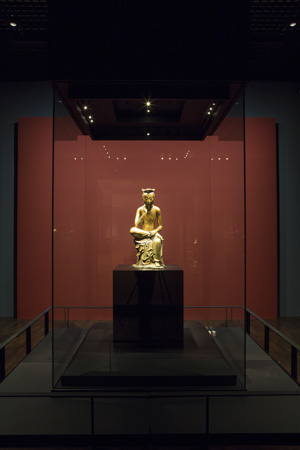 On October 23, the National Museum of Korea (Director Kim Youngna) reopened the renovated galleries highlighting some of its greatest artworks—the Silla Gold Crown and the Pensive Bodhisattva statues. The crown and the statues are the only relics in the NMK collection that have their own exhibition galleries, and those galleries recently underwent extensive renovations to create the optimum environment for visitors to appreciate these treasures.
The Gold Crown Gallery contains the gold crown (National Treasure #191) and gold girdle (National Treasure #192) that were excavated from the Hwangnam-daechong tomb. The new display places the gold items against a serene background, emphasizing their beauty and luminance, and employs color and light to create a more pleasant environment for the viewers. In addition, the cabinet has been rebuilt and re-located to give viewers a closer look at these treasures.
The Pensive Bodhisattva Gallery is designed to house the museum's two famous bodhisattva statues, National Treasures #83 and #78, which will alternate in the space. The highlight of the renovations is the installation of semitransparent glass, which will further stimulate the curiosity of the viewers. The floor and walls were painted in monotones and the walls were covered with special sound absorption panels. Also, a new lighting system, featuring safer and more energy-efficient LED optical fibers, was installed, giving viewers a clearer view of the statue. National Treasure #83 is currently on display, but when National Treasure #78 is exhibited, a new atmosphere will be created by changing the color of the walls.
These two galleries are also the first galleries at any museum in Korea to feature NFC service and NFC tags on the artifacts, allowing visitors to use their smartphones to get more detailed information about the objects and find books and souvenirs related to the exhibits. Visitors can also store high-definition pictures of the artworks and share their comments via social media, such as Facebook, Twitter, and Me2day.
The renovations to these galleries were conducted as part of the NMK's ongoing exhibition improvement project, with the intent of providing visitors with more information about the displays and a more productive cultural experience. The next stage of the project, due to be completed later this year, focuses on the Buddhist Sculpture Gallery.