New Works on Display in Asian Art Section (Third Floor)
On July 31, the National Museum of Korea (Director Kim Youngna) proudly introduced 17 new works in the Indian and Southeast Asia Gallery and the Japan Gallery of the Asian Art section. The works are highlighted by five new Indian paintings, including Portrait of a Mughal Empire Princess.

The new additions to the Indian and Southeast Asia Gallery include four miniature paintings produced in the Mughal Empire and the Deccan region in the 16th-18th century, which are being unveiled for the first time since being purchased by the museum in 2011. The acquisition of these works has enabled the museum to exhibit a more diverse collection of miniatures from the region, which was central to the development of India's unique tradition of miniature painting. The other paintings exemplify the distinct style of Mughal Empire portraits, which feature detailed depictions of jewelry and costume textures against an empty background. Picchvai, which follows the same theme as an earlier painting also called Picchvai, displays the Hindu-inspired aesthetics of the Rajathan area. Visitors are invited to appreciate the four miniatures, as well as the themes and regional diversity of Indian paintings from the 16th-18th centuries.

The Japan Gallery has been renovated with 12 newly displayed works, ranging from Buddhist paintings from the late 13th century to modern Japanese paintings from the early 20th century. The Japanese modern art collection from the Yi Royal Family Art Museum has constituted a major part of this gallery, and two paintings from that collection are newly displayed. Moon by Miki Suizan (1887-1957), one of Kyoto's most representative artists, captures a sentimental moment of a woman gazing up at the moon on a summer night, while Iris by Yamamura Kouka (1886-1942), a Tokyo artist who also participated in the New Print Movement, presents a kingfisher perched on an iris bough. Furthermore, two new works from the Juniten (literally "Twelve Heavens") series, produced in the Kamakura period in the late 13th century, are exhibited, with Bonten and Jiten replacing Futen and Rasetsuten. Also, new pages are displayed from Genji Monogatari Painting Book by Tosa Mitsuoki (1617-1691) and the engraved painting Tokaido 53 Landscapes by Utagawa Hiroshige (1797-1858), both from the Edo period.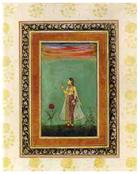 Portrait of Mughal Empire Princess


Mughal Dynasty (1650-1675), opaque watercolor on paper, gold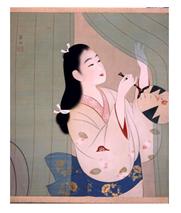 Moon

Miki Suizan, 1937, color on silk, early modern period 202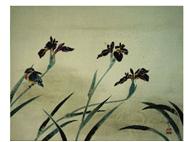 Rabbit-ear iris
Yamamura Kouka, purchased in 1940, color on paper, early modern period 122