Masterpieces of Joseon Painting
○ Venue: Painting Gallery, Calligraphy and Painting Section
○ Exhibits: 107 works in 46 types, including Crown Prince Munhyo's Folding Screen
○ Date: June 25 ? October 21
The National Museum of Korea (Director Kim Youngna) presents an exhibition of 107 paintings from the Joseon Dynasty, selected from the museum's vast collection of portraits, figure paintings, landscapes, court paintings, and flower, bird, and animal paintings. Held in the newly refurbished Painting Gallery, the exhibition allows visitors to examine and compare the works of some of the greatest painters from different periods of the Joseon Dynasty, including An Gyeon (15th century) of early Joseon, Yun Du-so (1668-1715) and Jeong Seon (a.k.a. Gyeomjae, 1676-1759) of mid-Joseon, and Jang Seung-eop (a.k.a. Owon, 1843-1897) of late Joseon.

In the Landscape Gallery, the exhibited works include Sasi palgyeongdo (Eight Scenes of the Four Seasons) by An Gyeon, and Hojo nanggwan gyehoedo (Government Officials from the Ministry of Finance, anonymous, Treasure #870), which depicts a social gathering of eight former and current junior finance ministers, exemplifying the "association gathering paintings" of the mid-16th century. Also on display is Gyesanpomudo, a dreary riverside landscape captured in extremely simple brushstrokes by Jeon Gi (1825-1854), who is widely regarded as one of the greatest talents of late Joseon despite his untimely death at the age of 30. The exhibition also features masterpieces from many of Joseon's finest artists, such as Jeong Seon, Sim Sa-jeong, and Yi Han-cheol.

The Figure Painting Gallery showcases the works of two of the most creative painters of the Joseon Period: Yun Du-seo (1668-1715) and Kim Myeong-guk (1600-?). Works by Yun include Noseungdo (Old Monk) and his portraits of Yun Geup (1697-1770) and Jeong Gyeong-sun (1721-1795), while works by Kim include Jeollo dogangdo (Crossing the River on a Reed Stalk). Yun Du-seo was a literati artist well known for painting people and horses, while Kim Myeong-guk was a court painter who twice visited Japan as part of the Joseon envoys. Kim outshined his contemporaries in almost every painting genre, but he was particularly renowned for his depictions of the Bodhidharma, a legendary Buddhist monk. His paintings are characterized by thick, tough brushstrokes, a strong contrast between black and white, and sharply angled lines.

The Flower, Bird, and Animal Painting Gallery introduces the world of Korean ink wash paintings, as represented by the works of Yu Deok-jang (a.k.a. Suun, 1675-1756) and Sin Wi (a.k.a. Jaha, 1769-1845), two of most renowned Joseon painters of bamboo. The excellence of their ink wash paintings is due in large part to their remarkable sense of space, put forth by the subtle gradation of tone, from black to white. The exhibition also includes Haedo (Crabs), a fine ink wash painting by Kim Hong-do (a.k.a. Danwon, 1745-?), one of Joseon's greatest genre painters. The artist's humorous postscript on the painting reads: "Please eat them when you make a journey for the state examination." Another masterpiece, Hwajo yeongmodo (Flowers, Birds, and Animals on a Ten-panel Screen) by Jang Seung-eop, displays the artist's outstanding brush techniques, resulting in a highly realistic depiction of his subjects. Other displayed works include two outstanding ink wash paintings collected by Son Chang-geun: Hwajeopdo (Butterflies and Flowers) by Nam Gye-u and Yeongmodo (Bird-and-Animal) by Jang Seung-eop.

The jewel of the exhibition in the Decorative Painting Gallery is Munhyo Seja boyangcheong gyebyeong (Crown Prince Munhyo's Folding Screen), which was the subject of an in-depth study published by NMK in 2011. The painting depicts the official ceremony in which Crown Prince Munhyo (1782-1786), King Jeongjo's oldest son, met his two royal tutors, Yi Bok-won (1719-1792) and Kim Ik (1723-1790) in the first month of 1784. In comparison to other paintings made to mark important royal events, this painting features a larger depiction of the human figures and a more realistic depiction of their movements and costumes. The royal court of Joseon maintained a long tradition of employing distinguished scholars to educate the crown prince and holding a ceremonial meeting between the tutors and their pupil, but remarkably this is the only known painting depicting such an event.

Marking the second refurbishment of NMK's Painting Gallery this year, this exhibition allows visitors to relish the profound aesthetic sensibility of Joseon artists.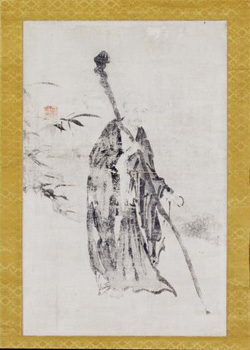 Painting 1. Noseungdo (Old Monk), Yun Du-seo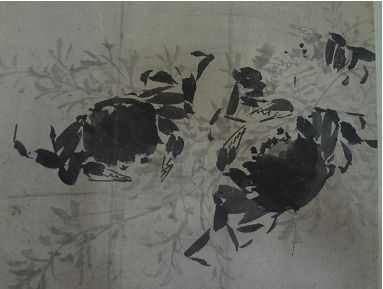 Painting 2. Haedo (Crabs), Kim Hong-do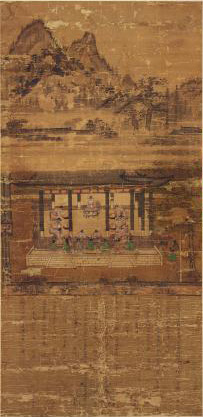 Painting 3. Hojo nanggwan gyehoedo (Anonymous, Government Officials from the Ministry of Finance), Anonymous, Treasure #870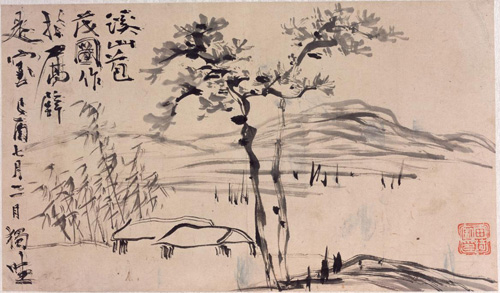 Painting 4. Gyesanpomudo, Jeon Gi-pil

Painting 5. Munhyo Seja boyangcheong gyebyeong (The Crown Prince Munhyo's Folding Screen), Anonymous

Painting 6. Hwajo yeongmodo (Flowers, Birds and Animals on the Ten-panel Screen), Jang Seung-eop