Special Exhibition
Best Wishes, Auspicious Symbols in Chinese Art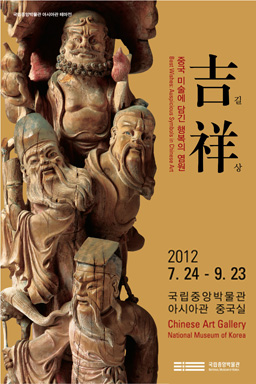 • Date: July 24 - September 23, 2012
• Venue: China in the Asia Gallery, Permanent Exhibitions
The National Museum of Korea (Director Kim Youngna) presents the special exhibition Best Wishes: Auspicious Symbols in Chinese Art, displaying about 100 Chinese artworks selected from private and institutional collections in Korea, as well as from NMK's own collection.

Since ancient times, people around the world have developed and maintained their own traditional symbols to express their wishes for benevolence and fortune, and the Chinese were no exception. In fact, they have one of the longest, most colorful histories of incorporating auspicious symbols into nearly every aspect of life, including arts and culture. They used a wealth of symbols to represent their strong aspirations for a longer, happier, more prosperous life, in this world and the next. Chinese people of the past endowed a variety of creatures with abstract meanings, and then transformed those creatures into signs and symbols that they used to decorate all kinds of objects. They surrounded themselves with these auspicious symbols in the hope of making their wishes come true.
The Chinese tradition of using auspicious symbols to express people's wishes through arts and crafts was transmitted to Korea and Japan, and each country continued to develop the tradition in its own way. Through this exhibition, viewers can compare and contrast the traditions of the three countries. The exhibition also helps mark the 20th anniversary of establishment of diplomatic relations between Korea and China. By looking back on the close cultural relationship the two countries have shared through history, the exhibition aims to promote future cultural exchanges between the two.
Click here for the exhibition details!