Special Exhibition
Korean Art from the United States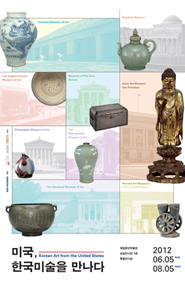 o Date: June 5 - August 5, 2012
o Venue: Special Exhibition Gallery of the Permanent Exhibition Hall (1F)
o Hosted by: National Museum of Korea, Korea Foundation
o On Display: More than 80 pieces, including Maebyeong (Inlaid Celadon Vase) from the Museum of Fine Arts, Boston; Sakyamuni Buddha Lecturing on the Dharma from the Honolulu Museum of Art; and Amitabha and Ksitigarbha from the Metropolitan Museum of Art
From June 5 to August 5, NMK and the Korea Foundation host the special exhibition Korean Art from the United States, collecting major works from the Korean collections of American museums. Consisting of three sections, this exhibition presents more than 80 Korean artworks from nine major museums in the United States.
With 2012 marking the 130th anniversary of the establishment of diplomatic relations between Korea and the US, this exhibition enhances visitors' understanding and appreciation of how the status of Korean art has risen in the US over the past century.
Click here for the exhibition details!