"The Empire of Korea and the Modern Era"
Re-Opening of Joseon Dynasty Gallery V in the Permanent Exhibition
The National Museum of Korea (Director Kim Youngna) has reorganized the Joseon Dynasty Gallery V on the first floor of the Permanent Exhibition Gallery, with the new theme of The Empire of Korea and the Modern Era. The new exhibition, featuring a total of 61 relics from that era, will open to the public on May 25, 2012.
This important new exhibition explores the birth of modern Korea, and is doubly significant in that it represents the completion of the museum's reorganization of all of its Korean history exhibits. The Daehan Empire of Korea (1897-1910) remains a controversial chapter in Korean history, as this was the time when the nation fell under the colonialist rule of Japan, but it was also the period when Korea took its first fledgling steps towards modernization. Through this new exhibition, the museum aims to boost the image of this short but meaningful period by highlighting the seeds of modernization that were planted, which would only begin to flourish many years later.
The exhibition is divided into three parts. The first part examines the advent of the Daehan Empire, a time in which many modern ideas and concepts were introduced into Korea, along with many Western goods and products. Displayed items include the official seal and medals of the Daehan Empire, which symbolized change in the nation's highest office, as well as a locomotive, phonographs, cameras, and telephones, attesting to the new technologies that impacted people's everyday lives. This part of the exhibition also features a number of texts, visual records, and images of the era published by Western visitors to Korea, showing the country from the perspective of people from different parts of the world.
The second part of the exhibition features Korean paintings of the era, focusing on how they were affected by the Western drawing techniques that were first introduced into Korea at this time. For instance, the Western impact on Korean art during the period can be clearly seen in Baegakchunhyo (Landscape Painting) by An Jung-sik (1861-1919) and Unnangja (Portrait of Choe Yeon-hong) by Chae Yong-sin (1850-1941), which was designated as a Registered Cultural Heritage by the Cultural Heritage Administration of Korea in February 2012. Moreover, The Portrait of Lee Gyu-sang, by an unknown artist (donated by Lee Sang-eok), which is being revealed to the public for the first time at this exhibition, demonstrates how Korean painting changed in the wake of the introduction of photography.
The third part of the exhibition focuses on the social and cultural changes that occurred in Korea during the era, including the advocacy of "free love," one of the serious moral challenges of the period. This part of the exhibition is designed to give visitors a deeper appreciation of the era through diverse media including audio, video, books, stereoscopes and puzzles.
In conclusion, the exhibition offers visitors a valuable opportunity to re-examine a somewhat neglected period of Korean history from a fresh perspective.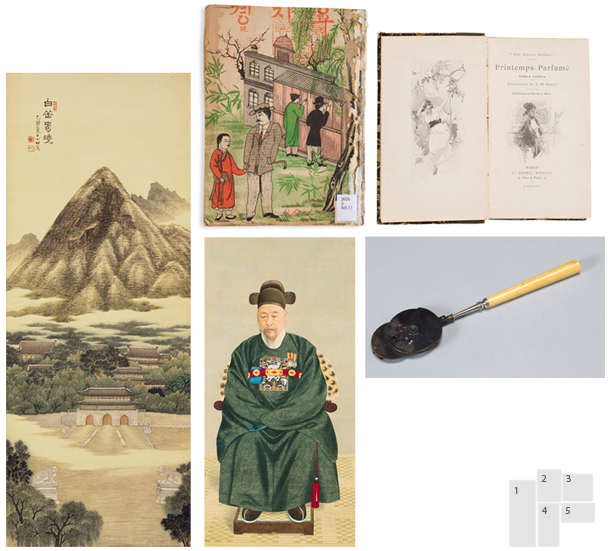 Baegakchunhyo by An Jung-sik, 1915 (Registered Cultural Heritage #485)
Paperback cover: Yojigyeong (The Kaleidoscope of Life)
Chunhyangjeon (Histoire de Chunhyang) in French, 1892
Portrait of Lee Gyu-sang by unknown artist (donated by Lee Sang-eok)
Allen's ophthalmoscope (Registered Cultural Heritage #446)